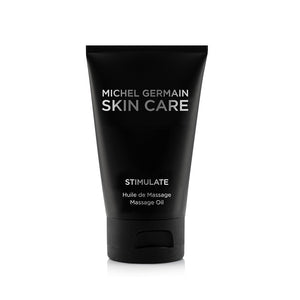 Michel Germain Skincare Massage Oil
Sophisticated.  Alluring.
Experience the soothing & relaxing powers of Michel Germain Skin Care Massage Oil.  
How to apply: Apply a quarter-sized amount of massage oil into your palms.  Rub together, then apply to shoulders, calves, ankles, or anywhere tension is held in the body.  The soothing aroma of bergamot, sage, and vanilla will provide a calming atmosphere.  The smoothing texture of the oil will allow for a deep and moisturizing massage.  
FRAGRANCE TYPE: Fougere Woody
TOP:  Italian Bergamot, Italian Mandarin, Pineapple
MIDDLE:  Pink Rose, Asian Sage, Violet
HEART:  Sandalwood, Vanilla, Patchouli